Living Locums Series Part 4: The First Day: What to Expect
In part three of our multi-part "Living Locums" series (see part 3 here), we talked about how to prepare for your new assignment. In this fourth installment of our series, we'll discuss what you should expect your very first day on the job.
It's funny how a person can be an accomplished professional, survive medical school, and deal with very grown-up responsibilities every day and still be nervous about the first day on the job. The combination of positive anticipation leavened by a pinch of fear can make us feel like a kid on the first day of school.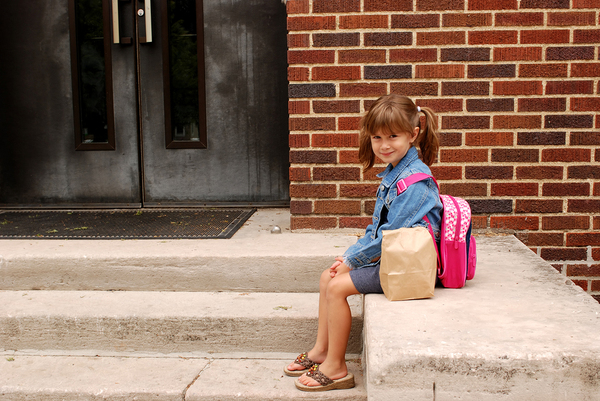 If you are nervous about your first day on the job, you're not alone!
"Fake It Until You Make It" Doesn't Work for Doctors
The concept of "fake it until you make it" can be useful if you're learning a new board game or trying to make a good first impression at a party. But doctors can't fake anything with the possible exception of a positive attitude. The first day on a locum tenens assignment may well put someone's life into your hands, so it's important that you're well-rested, well-fed, and wearing clothes that are both professional and comfortable.
The good news is that as the new person, others tend to give you a pass on certain things like knowing everyone's name. You may feel like you're under significant pressure on your first day at a hospital or other facility, but rest assured, staff members are grateful for your presence — after all, your presence makes life easier for them and helps prevent the facility from losing money due to being short-staffed.
Getting to Know People and Establishing Boundaries
Your first day on an assignment is an amazing opportunity to get to know the people with whom you will be spending considerable time. But it doesn't just include other doctors and clinical staff. Getting to know the HR person who handles your locums assignment administrative tasks is important, as is getting to know the person who delivers patient food trays and the person who does the cleaning. Your first day is also one of those rare occasions when you can invite yourself to lunch without coming on too strong.
At the same time, however, make your boundaries clear to avoid burnout. Staying above office gossip and politics is wise, and you have to start on day one. Otherwise, people will try to draw you into alliances. Setting boundaries is largely a matter of communicating clearly and being prepared to diplomatically say, "No" should you be asked to do something you're not yet comfortable with. You can establish many precedents on your first day on the job, without even noticing it.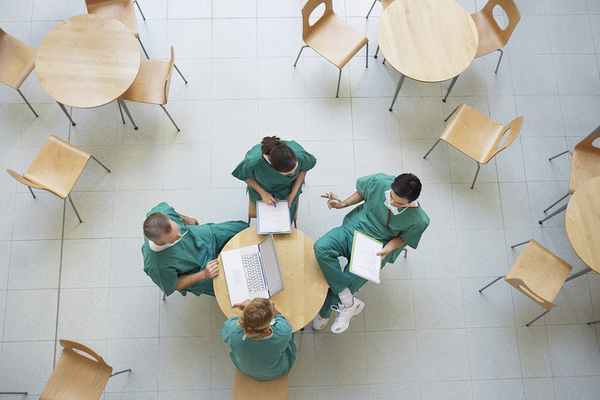 Go ahead and ask the cool kids if you can sit at their lunch table.
Demonstrating You Are Punctual and Reliable
The basics are incredibly important on your first day as a locum tenens physician. Err on the side of dressing too formally rather than too casual. You can always go more casual if that's the norm in the workplace. Being a little early on the first day is also advisable. Not only does it demonstrate that you take your work seriously but it allows time for anything unexpected that may come up. For example, you may have extra paperwork to complete on your first day, and you don't want to be rushed.
Showing up on time and generally demonstrating professionalism from the moment you walk in makes things easier on yourself and on your new colleagues. A good first impression sets the stage for an enjoyable and rewarding locum tenens assignment. Work-life balance is a prime reason many physicians choose to be locum tenens practitioners, so make sure you take work-life balance seriously too. Staying in touch with your locum tenens recruiter is a great way to help ensure favorable assignments in the future and to help your locum tenens agency have the best possible relationship with the provider that hired you.
The first day on any job is both exciting and stressful, and that goes double with medical jobs. The more locum tenens assignments you accept, the easier it will be, but you will probably never approach a first day without at least a little apprehension. Being prepared for your first day on the job is the key to making a great first impression and gaining the richest locum tenens experience.
All Medical Personnel |  Locum Tenens believes in strong communication throughout the process of matching up locum tenens physicians with assignments. We also respect your time, with the shortest application process in the industry. We invite you to contact us to learn more, or to ask any questions about locum tenens placements. We're experts and are pleased to share our extensive knowledge and experience to make your locums assignment a resounding success.